Comfort Glide Repositioning System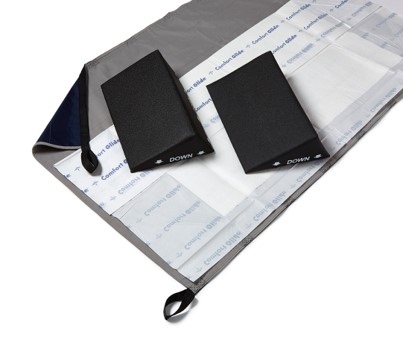 Description
3-in-1 system to help prevent pressure damage. Air-permeable repositioning sheet can remain under patients for extended periods, enabling repositioning every 4 hours for patients at high risk. Once repositioned, wedges keep patients in the recommended 30-degree tilt position to reduce pressure on bony prominences. Pads designed to manage moisture to keep skin dry.
Indications
Pressure ulcer prevention in high-risk patients.
Contraindications
Regular positioning sheet not suitable for patients over 260kg; extra-large sheet not suitable for patients over 285kg. 
Sizes Available
Repositioning sheet: 89x140cm; 107x198cm (extra large)
Repositioning wedge: 28x13x14cm; 38x17x14cm (extra large)
Drypad: 91.5x145cm; 101x203cm (extra large)
Price
Available through NHS Supply Chain or direct. Contact supplier for details.
More on: Other medical devices , Pressure offloading