Ulcer X Kit and Ulcer X Liners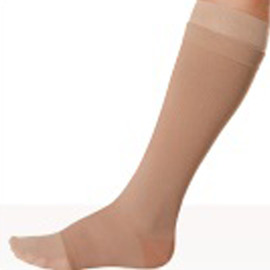 Description
Ulcer X is a leg ulcer treatment pack comprising RAL class 2 open-toe, below-knee stocking and closed-toe liners. Ulcer X Liner comprises closed toe liners designed to enable easy application of hosiery. 
Indications
Treatment and management of venous leg ulcers.
Contraindications
None listed.
Sizes Available
Open toe, open toe plus and closed toe. Colour: beige.
Ulcer X: pack contains open toe/open toe plus 1x500 class 2 stocking and two closed toe liners (~46mmHg). Ulcer X Liner: pack contains closed toe 4 liners (15–20mmHg).
Available in small, medium, large and extra large; short or long lengths.
Price
Open toe/open toe plus packs kits: £25.35
Closed toe pack liner refill: £21.58
More on: Hosiery: leg ulceration , Compression