Sureprep No Sting Barrier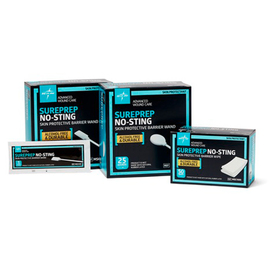 Description
Water-based no-sting formula containing no alcohol or synthetic solvents for painless application on damaged or compromised skin. Forms a long-lasting, clear, vapour-permeable, water-resistant coating. For use on all skin types, including neonatal.
Indications
To provide a primary barrier on intact or damaged skin against bodily wastes, fluids and adhesives.
Contraindications
Not to be used on infected areas of skin, near the eyes, or as the only covering when additional dressing protection is required against bacterial contamination/penetration, for example on intravenous catheter sites and full- or partial-thickness wounds.
Sizes Available
Foam applicators: 1ml (x 25); 3ml (x 25)
Pump spray, 28ml
Stoma wipes (x 50)
Price
Foam applicators: £19.25; £33.00
Pump spray: £5.76
Stoma wipes: £22.50
More on: Skin protection