Marathon Skin Protectant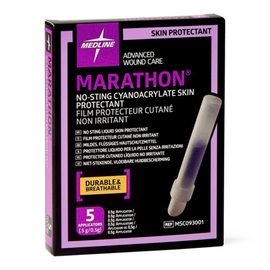 Description
A non-cytotoxic, cyanoacrylate-based monomer that forms a strong protective layer over skin. As the cyanoacrylate polymerizes, it bonds to the skin surface. It resists external moisture, yet allows the skin to breathe.
Indications
Protects intact or damaged skin from:
• Incontinence
• Moisture
• Bodily fluids
• Shear and adhesive stripping.
Contraindications
Do not apply directly to:
• Deep, open, bleeding, or chronic wounds
• Second or third-degree burns
• Infected areas.
Sizes Available
0.5g ampoule
Price
Contact supplier
More on: Skin protection