Medihoney HCS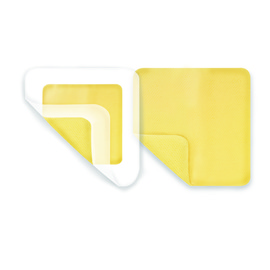 Description
An all-in-one dressing that combines 63% Medihoney (active Leptospermum) in a hydrogel dressing with a superabsorbent polymer. Available with or without an adhesive border. The adhesive dressing does not require a secondary dressing.
Indications
Dry to moderately exuding wounds: diabetic foot ulcers; leg ulcers; categories I–IV pressure ulcers; first- and second-degree burns; donor site wounds; traumatic wounds; surgical wounds.
Contraindications
Third-degree burns; known sensitivity to honey.
Sizes Available
Non-adhesive: 6x6cm; 11x11cm; 20x20cm; 20x30cm
Adhesive: 7.2x7.2cm (11x11cm outer); 11.5x11.5cm (outer 15x15cm); surgical: 4.5x16.5cm (outer 7.5x20cm)
Price
Non-adhesive: £2.26; £4.50; £18.18; £28.28
Adhesive: £3.08; £5.83; £3.07
More on: Honey