Medihoney Antibacterial Honey Tulle Dressing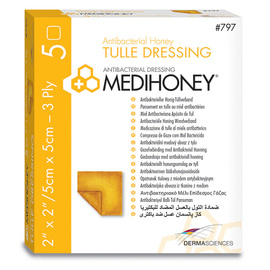 Description
Non-adherent wound contact dressing impregnated with Medihoney Antibacterial medical-grade Manuka Honey.
Indications
Acute and chronic wounds: leg/foot ulcers, pressure ulcers, sloughy wounds, necrotic wounds, infected wounds, malodorous wounds, donor and recipient graft sites, and burns, diabetic wounds and surgical wounds.
Contraindications
Do not use on patients with a known sensitivity to honey.
Sizes Available
5x5cm; 10x10cm
Price
£1.73; £3.03
More on: Honey