Oasis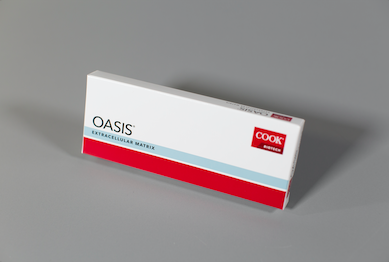 Description
Derived from porcine small intestinal submucosa (SIS). SIS products support the body's own healing process by providing a natural extracellular matrix (ECM) scaffold that remodels into patient tissue.
Indications
Abrasions; burns (second-degree only); diabetic foot ulcers; donor sites; lacerations; pressure ulcers; post-surgical dermal wounds; skin tears; venous leg ulcers.
Contraindications
This dressing is derived from a porcine source and should not be used in patients with known sensitivity to porcine material. Not indicated for use on third-degree burns.
Sizes Available
3x3.5cm; 3x7cm; 7x10cm; 7x20cm (single-layer meshed and two-layer meshed)
Price
Not available on the Drug Tariff
More on: Skin regeneration , Other medical devices