Repose Wedge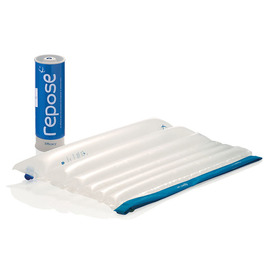 Description
Designed to completely offload heels for either pressure-damage prevention or as a part of the management of heel ulcers. Suitable for patients who are confused and may be not be able to remove other offloading devices when moving off the bed, or who are restless and therefore may not tolerate other forms of heel protection or kick them off. Can be cleaned and reused. Two-year warranty.
Indications
Patients at risk of pressure damage up to and including those assessed as at very high risk. Can also be used on patients with up to category IV tissue damage.
Contraindications
Not suitable for patients weighing over 139kg.
Sizes Available
690x450mm
Price
Available from NHS supply chain or contact supplier.
More on: Other medical devices , Pressure offloading