Abilar 10% Resin Salve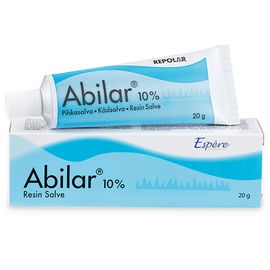 Description
An ointment-like product containing refined natural resin from Norwegian spruce (Picea abies), which has been used as a traditional wound-care treatment in Finland for over 500 years. Creates a protective layer that enhances wound healing and inhibits bacteria (including MRSA) and certain fungi, helps prevent biofilm formation and promotes re-epithelialisation.
Indications
To promote healing of any infected or uninfected wound including leg ulcers, pressure ulcers, diabetic wounds, surgical wounds and burns. Can be used with a basic, low-cost dressing.
Contraindications
Not recommended during pregnancy or lactation. Do not use on mucous membranes or on the eyes. Do not use if the patient has a known sensitivity reaction to natural resins. Stop using in the event of a local allergic reaction.
Sizes Available
20g tube (approximate coverage 200cm2)
Price
£8.27
More on: Protease modulating dressings