Credalast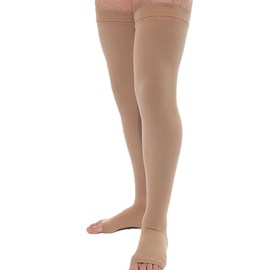 Description
British Standard range of compression hosiery available in cotton and nylon. Credalast Cotton (cotton/lycra) is a classic support hosiery with cotton layer knitted on the inside layer; designed for patients with sensitive skin. Credalast Nylon (nylon/lycra) is a sheerer hosiery with a nylon yarn.
Available in compression classes 1, 2 and 3 in below knee and thigh length. 
Available in standard sizes (natural colour only) and made to measure.
Made-to-measure options are Credalast Classic and Credalast Velvet (with Tactel Climate Effect), both of which come in natural and black.
Indications
Class 1 (14–17mmHg): light (mild) support for superficial or early varices including those occurring during pregnancy. 
Class 2 (18–24mmHg): medium (moderate) support for varices of medium severity; ulcer treatment and prevention of recurrence; mild oedema and varicosis during pregnancy.
Class 3 (25–35mmHg): strong support for gross varices; post-thrombotic venous insufficiency; gross oedema; ulcer treatment and prevention of recurrence.
Contraindications
Arterial disease based on vascular assessment; severe heart disease; diabetes (unless under medical supervision); loss of feeling in the legs. Precautions: known allergy to compression stocking fabric; severe infections of the veins or skin. See instructions for use.
Sizes Available
Standard sizes: S, M, L, XL.
Small: ankle 18–22cm; calf 28–34cm; thigh 40–54cm.
Medium: ankle 20–24cm; calf 32–38cm; thigh 46–60cm.
Large: ankle 24–28cm; calf 36–42cm; thigh 54–68cm.
Extra large: ankle 28–32cm; calf 40–46cm; thigh 60–74cm.
Leg length (cm): standard: heel-knee, up to 38; long: heel-knee, up to 45.
Standard variations: below knee; thigh high; open toe; and thigh length with waist attachments.
Price
British Standard Hosiery
Class 1: below knee: £8.02; thigh: £8.78
Class 2: below knee: £11.73; thigh: £13.05
Class 3: below knee: £13.30; thigh £15.47
Made to measure 
Class 1, 2, 3: below knee: £29.08; thigh: £46.48
More on: Compression , Hosiery: leg ulceration , Hosiery: lymphoedema