Appeel Sterile Medical Adhesive Remover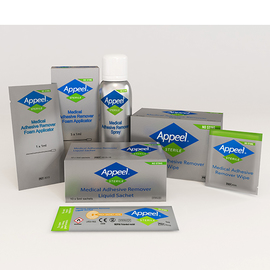 Description
Non-sting medical adhesive remover containing certified health-care grade silicone ingredients.
Indications
Adhesive dressing or appliance removal where skin stripping, loss of skin integrity, peri-wound maceration, pain and risk of infection are concerns. Indicated for use on both intact and injured skin. It is not metabolised by the skin so will not affect wound healing. External use only.
Appeel Sterile Sachet: a patented, single-use delivery system suitable for removing all types of adhesives. Suitable for the removal of larger appliances.
Appeel Sterile Wipes: single-use wipes for the removal of small appliances. Suitable for removing tape around nasogastric tubes.
Appeel Sterile Foam Applicator: the single-use foam applicator allows the product to be applied with precision, making it suitable for use on the face and on infants (avoid contact with the eyes). Also appropriate for use around intravenous cannulae and central lines.
Appeel Sterile Spray: a single-patient, multiple-use product suitable for dressing changes and/or urinary sheath removal. Suitable for use in the community setting. Bag-on-Valve technology means it can be sprayed at any angle with no cold sensation and the contents of the can remain sterile for every application.
Contraindications
Should not be used where there is a known sensitivity to any of the ingredients. If in doubt, patch test a small area before use. Do not use if packaging is damaged. The product is flammable; use in a well-ventilated area. Avoid use around flames and sources of ignition.
Sizes Available
Sachet: 5ml
Wipes: (x 30)
Foam applicator: 5ml
Spray: 100ml (individual can)
Price
Sachet: £1.21
Wipes: £16.56
Foam applicator: £4.00
Spray: £16.94
More on: Adhesive removers , Other dressings