Kerraped Plantar Ulcer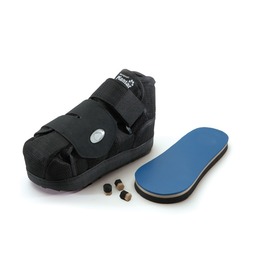 Description
A shoe system comprising a therapeutic shoe and an insole. The insole, which is 18mm thick, combines Poron, Plastazote and multifoam, and has easily removable pegs to allow selective offloading. The insole is placed into the therapeutic shoe, which has a breathable upper material and an abrasion-resistant outer sole. The shoe is secured with Velcro straps. Replacement insoles are available.
Indications
To offload the plantar aspect of the foot. The peg insole redistributes force away from at-risk areas of the foot. Removal of the single pegs facilitates selective offloading while still supporting both the intact and wound area of the foot.
Contraindications
Known sensitivity to any of the components of the Kerraped Plantar Ulcer shoe system. The system must be applied by a suitably qualified health-care professional. Once modified, it should not be used on more than one patient.
Sizes Available
The shoe system and replacement insole are available in all sizes: small (UK shoe size 2–5.5); medium (UK shoe size 6–7.5); large (UK shoe size 8–10); extra large (UK shoe size 10.5–13)
Price
Shoe system: £60.29; replacement insole: £27.73
More on: Pressure offloading , Other medical devices