Dermatix Silicone Gel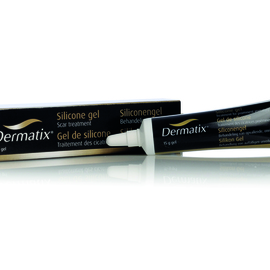 Description
Silicone topical gel.
Indications
For the treatment and prevention of keloids and hypertrophic scars, such as those resulting from general surgical procedures, trauma wounds and burns. Ideally, use just after the wound has healed and the skin surface is intact. It may also be used for prominent red immature scars that are actively healing; often up to 2 years post-wound closure.
Contraindications
Should not be applied to unhealed open wounds, or placed in contact with mucous membranes, or applied too close to the eyes. Should not be applied over other skin treatments without the advice of a doctor.
Sizes Available
15g; 60g
Price
£16.66; £60.53
More on: Scar management , Gel