UrgoTul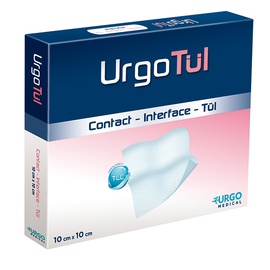 Description
Flexible contact layer containing a TLC (technology lipido-colloid) Healing Matrix that provides a nurturing environment for healing, pain-free dressing changes and harm-free care. Can stay in place for up to 7 days.
Indications
Acute wounds (burns, dermal abrasions, traumatic wounds, postoperative wounds) and chronic wounds (pressure ulcers, diabetic foot ulcers) at the granulation and epithelialisation stages. Congenital epidermolysis bullosa wounds. Flexible and highly conformable, can be used to cover irregular wounds or wounds in difficult locations and packing deep wounds.
Contraindications
Known sensitivity to any components of the dressing.
Sizes Available
5x5cm; 10x10cm; 10x40cm; 15x15cm; 15x20cm; 20x30cm
Price
£1.57; £3.13; £10.53; £6.66; £8.86; £14.25
More on: Wound contact dressings