UrgoStart Plus Pad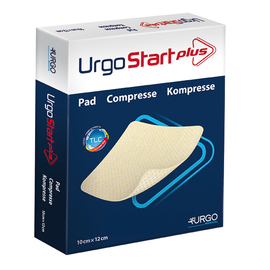 Description
A polyabsorbent fibre pad containing a protease inhibitor (TLC-NOSF Healing Matrix) and polyabsorbent fibres. The TLC-NOSF Healing Matrix inhibits excess metalloproteinases and promotes angiogenesis. The polyabsorbent fibres bind, trap and retain exudate, slough and debris. NICE 2019 medical technology guidance (MTG42) states that evidence supports the case for adopting UrgoStart dressings to treat diabetic foot ulcers and venous leg ulcers.
Indications
For all stages (from desloughing to complete healing) of exuding wounds including leg ulcers, diabetic foot ulcers, pressure ulcers, and long-standing acute wounds.
Contraindications
Do not use on heavily bleeding wounds, cancerous wounds, wounds that may reveal a deep abscess, infected wounds or where there is a known sensitivity to the dressing.
Sizes Available
Pad: 6x6cm; 10x10cm; 15x20cm
Price
Pad: £3.46; £5.07; £11.36
More on: Other dressings , Desloughing dressing , Protease modulating dressings