Zeroguent Emollient Cream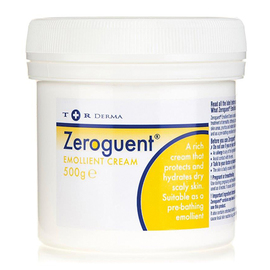 Description
Rich emollient containing light liquid paraffin, soft white paraffin and soya bean oil.
Indications
For use as a barrier and moisturiser for symptomatic treatment of dermatitis, ichthyosis, eczema, nappy rash, protection of raw and abraded skin areas, pruritus, and related skin conditions where dry scaly skin is a problem, and as a pre-bathing emollient for dry skin, to alleviate drying effects.
Contraindications
Allergy to any of the ingredients.
Sizes Available
100g; 500g
Price
£2.33; £6.99
More on: Skin protection , Therapeutic moisturisers