Zeroderm Ointment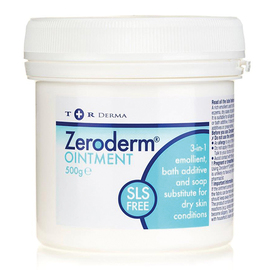 Description
An emollient containing liquid paraffin and white soft paraffin which has an emollient moisturising action on dry skin conditions. Free from fragrances and colours, sodium lauryl sulphate (SLS), additives and preservatives.
Indications
For external application as an emollient, bath additive and skin cleanser/soap substitute in the management of eczema, dry cases of psoriasis and other dry skin conditions.
Contraindications
Hypersensitivity to any of the ingredients listed.
Sizes Available
125g; 500g
Price
£2.41; £4.10
More on: Skin protection , Therapeutic moisturisers