LimbO Waterproof Protector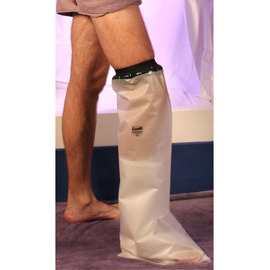 Description
Waterproof protection for dressings, PICC lines and plaster casts when bathing and showering. Has a gentle, strong neoprene seal. Multiple use. Latex-free.
Indications
Used to keep leg or foot dressings, PICC lines and midlines, and plaster casts dry during bathing or showering.
Contraindications
None listed.
Sizes Available
Adult half leg: slim build; slim build short leg; normal build; normal build short leg; large build; large build short leg.
Adult foot: small, large.
Adult elbow: slim to medium build; medium to large build.
Note: a full range of sizes, including children's and those for patients with lymphoedema, are available direct from the supplier (not on FP10). 
Price
Adult half leg: £10.74
Adult foot: £10.66
Adult elbow: £13.16
All other sizes: contact supplier
More on: Dressing protection , Other medical devices