LimbO Waterproof Protector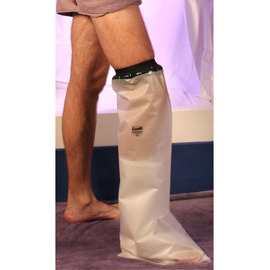 Description
Transparent limb-shaped plastic cover with flexible seal at the opening.
Indications
Used to keep leg dressings and PICC lines/midlines dry during bathing or showering.
Contraindications
None listed.
Sizes Available
Adult 1/2 Leg: Slim build; slim build short leg; normal build; normal build short leg; large build; large build short leg.
Adult Elbow: Slim to medium build; medium to large build.
Note: a full range of sizes of waterproof protectors, including extra large half models for patients with lymphoedema, is available direct from the supplier (not on FP10).
There are also two adult sizes foot models, which are intended for showering only.
Price
Adult 1/2 Leg: £10.56
Adult Elbow: £12.95
Adult foot and full leg: contact supplier
More on: Dressing protection , Other medical devices