Profore Latex Free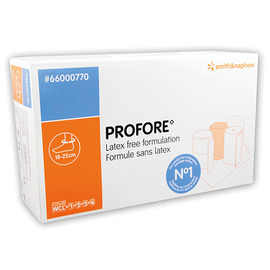 Description
Latex-free multilayer compression bandaging system. Also available in a lower-compression Lite format.
Indications
For treatment and management of venous leg ulcers and associated conditions.
Contraindications
Do not use on patients with an ABPI of <0.8 (Profore) or 0.6 (Profore Lite). Do not use on diabetic patients with advanced small vessel disease. For details of precautions please contact supplier.
Sizes Available
Kits: Profore Latex-Free 18–25cm; Profore Lite Latex-Free >18cm.
Components: Profore #1 Latex-free (10cmx3.5cm); Profore #2 Latex-free (10cmx4.5m); Profore #3 Latex-free (10cmx8.7m); Profore #4 Latex-free (10cmx2.5m); Profore + Latex-free (10cmx3m)
Price
Kits: £10.50; £6.17
Components: £0.79; £1.48; £4.43; £3.66; £4.07
More on: Bandaging , Compression