Opsite Flexigrid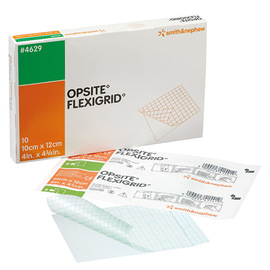 Description
Polyurethane film dressing with 1cm grid marked on it to aid wound measurement.
Indications
Superficial pressure ulcers, minor burns, scalds, postoperative wounds, skin grafts, donor sites, abrasions, lacerations, and leg ulcers in the final stages of healing. Can also be used to protect the skin from friction and external contamination; to help prevent pressure ulcers; to protect the skin around stoma sites and under leg bags; to retain primary dressings; to provide catheter fixation; to relieve pain in painful diabetic neuropathy. 
Contraindications
None listed. For details of precautions please contact supplier.
Sizes Available
6x7cm; 12x12cm; 15x20cm
Price
£0.43; £1.22; £3.09
More on: Films