Algisite Ag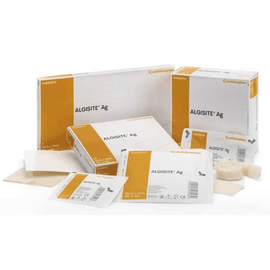 Description
Calcium alginate dressing impregnated with silver. Dressing can remain in situ for up to 7 days.
Indications
Moderately to heavily exuding wounds such as pressure ulcers, postoperative wounds, partial-thickness and full-thickness wounds, arterial, venous and diabetic leg ulcers and fungating lesions. Can be used on wounds that are infected or likely to become infected. 
Contraindications
Do not use on patients with known sensitivity to the dressing or any of its components. Do not use on patients undergoing MRI examination. For details of precautions please contact supplier.
Sizes Available
5x5cm; 10x10cm; 10x20cm; 30cm/2g 
Price
£1.73; £4.31; £7.94; £5.96
More on: Alginates , Silver , Antimicrobial