octenilin wound irrigation solution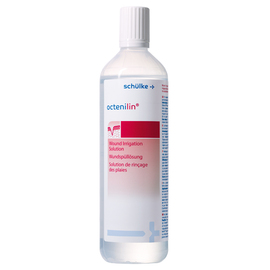 Description
Wound irrigation solution containing a combination of octenidine and ethylhexylglycerin. Ethylhexylglycerin reduces surface tension and moistens the skin, loosening biofilm and devitalised tissue. Octenidine prevents bacteria and fungi growing in the solution and the wound dressing.
Indications
Suitable for removal of wound crusts consisting of necrotic tissue, biofilm and fibrinous films. Also for moistening wounds, wound dressings and wound pads.
Contraindications
Not intended to be injected under pressure into the tissue or to be allowed into the blood circulation.
Sizes Available
350ml
Price
£4.83
More on: Basic dressings , Irrigation and cleansing