Medi Derma-S Total Barrier Cream – Non-sting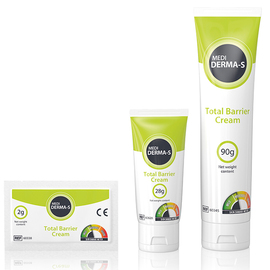 Description
Non-sting barrier cream providing transparent long-lasting protection from moisture associated skin damage on intact and mildly damaged skin. Moisturises and helps to restore skin integrity.
Indications
Prevention and protection of intact and mildly-damaged skin from incontinence, wound exudate and/or irritation from adhesive products.
Contraindications
Do not use on infected areas of skin. Do not use if there are any signs of irritation and consult your clinician accordingly. Only use as directed. For external use only.
Sizes Available
2g sachets (x20)
Tube: 28g; 90g
Price
Sachets: £5.85
Tube: £2.98; £5.95
More on: Skin protection