Medi Derma-PRO Skin Protectant Ointment – Non-sting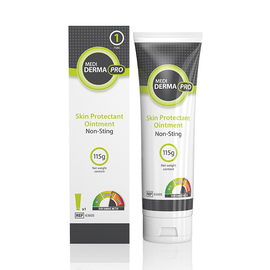 Description
Viscous, non-sting ointment providing a long-lasting protective waterproof barrier to skin severely damaged from incontinence.
Indications
Protection of intact, injured and at-risk skin from severe irritation due to incontinence.
Contraindications
For external use only. Do not use if there are any signs of irritation or known allergies/sensitivities to any of the ingredients. Only use as directed. Do not use with adhesive dressings or appliances. 
Sizes Available
115g tube
Price
£8.50
More on: Skin protection