Medi Derma-PRO Foam and Spray Incontinence Cleanser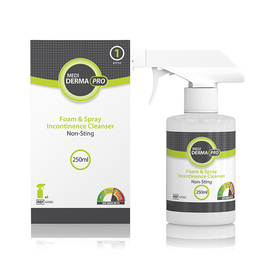 Description
pH-balanced, skin-friendly, no-rinse, moisturising cleanser suitable for use on severely damaged skin from moisture-associated skin damage. Can be used in a foam or spray mode for easy application to difficult-to-reach areas.
Indications
For removal of urine and faeces following episodes of incontinence. For breakdown and removal of stubborn dried bodily fluids, such as faeces and blood, postoperative antiseptic cleansing solutions and skin barrier protectants. 
Contraindications
For external use only. Do not use if there are any signs of irritation or known allergies/sensitivities to any of the ingredients. Only use as directed. Do not use with adhesive dressings or appliances. 
Sizes Available
250ml spray
Price
£5.95
More on: Skin protection