mediven mondi – made to measure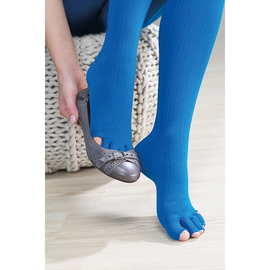 Description
Flat-knit RAL compression that can be used to treat all stages of lymphoedema, and is particularly suitable for children and elderly people. Available in a variety of styles, colours and trend colours at no extra cost. Latex-free.
Indications
Primary and secondary lymphoedema/chronic oedema, lipoedema states I and II, postoperative and post-traumatic oedema, severe phlebological conditions, keloid treatment e.g. after burns. 
Contraindications
Arterial disorders.
Sizes Available
RAL compression class I–III.
Styles: below knee; thigh length; thigh length with waist attachment; tights; one-legged panty (option to add closed toe, 'Y' knitting mark, zip and/or silicone top band).
For made-to-measure form, contact manufacturer
Price
Class 1 (18–21mmHg):
Below knee: £34.85
One Legged Panty: £118.24
Thigh Length: £40.57
Thin Length with Waist Attachment: £57.24
Class 2 (23–32mmHg):
Below knee: £36.50
One Legged Panty: £128.61
Tights: £166.69
Thigh Length: £44.81
Thigh Length with Waist Attachment: £61.52
Class 3 (34–46mmHg):
Below knee: £40.89
One Legged Panty: £177.18
Tights: £50.41
Thigh Length: £49.78
Thin Length with Waist Attachment: £63.13
Additional Options: 
Closed toe: £1.07
Silicone topband: £8.12
'Y' Knitting Mark: £9.88
Zip: £22.50
More on: Compression , Hosiery: lymphoedema