mediven forte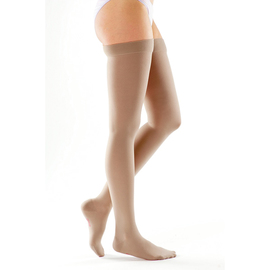 Description
Latex-free, seamless, two-way stretch stocking made from antibacterial yarn. Made-to-measure option available in black and beige. For special options (closed toe, plain, lace or sensitive topband and panty), please call manufacturer for details.
Indications
Strong stocking for severe venous indications and moderate chronic oedema/lymphoedema.
Contraindications
Arterial circulation disorders; right heart failure; pre-existing gangrenous damage; neuropathy; and/or inability to tolerate the stocking fabric.
Sizes Available
Class 2 (23–32mmHg) and class 3 (34–46mmHg) compression. Sizes: I–VII. Styles: Knee-length stocking (standard or petite); thigh-length stocking (standard or petite) (also with waist attachment); pantyhose; maternity pantyhose; men's tights. Colour: beige
Price
Not available on Drug Tariff. Price on application.
More on: Hosiery: lymphoedema , Compression