mediven active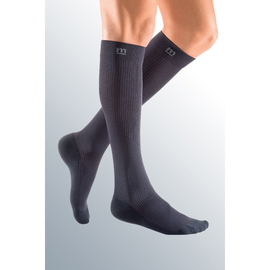 Description
Below-knee RAL compression socks for men. Extra wide comfort cuff. Length of sock up to 49cm to accommodate longer legs. Shoe size 5–12.5. Latex-free.
Indications
For the management of lymphoedema, venous disorders and associated conditions of the lower leg.
Contraindications
Arterial circulation disorders, right heart failure, pre-existing gangrenous damage, neuropathy and/or inability to tolerate the stocking fabric.
Sizes Available
RAL compression class 1 (18–21mmHg) and class 2 (23–32mmHg)
Sizes: I-VII
Colours: Black, grey, brown, white or navy. Petite length available in black only
Styles: below knee closed toe; below knee closed toe petite
Price
Class 1: £29.11
Class 2: £29.44
More on: Hosiery: lymphoedema , Compression