Suprasorb X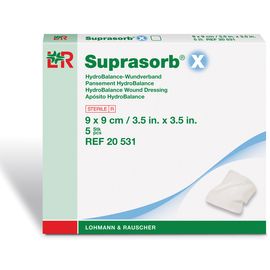 Description
Bio-cellulose dressing that provides a moist environment and cooling effect which may be perceived as soothing. Can be cut or folded to the shape/size of the wound.
Indications
Light to moderately exuding, non-infected superficial and deep wounds, including leg ulcers of various aetiologies, pressure ulcers, diabetic ulcers, partial-thickness burns, postoperative wounds, skin donor sites and skin graft sites. 
Contraindications
Known sensitivity to any components of the dressing.
Sizes Available
5x5cm; 9x9cm; 14x20cm; 2x21cm (rope)
Price
£2.16; £4.49; £8.89; £6.91
More on: Bio-cellulose dressing , Other dressings