Suprasorb Liquacel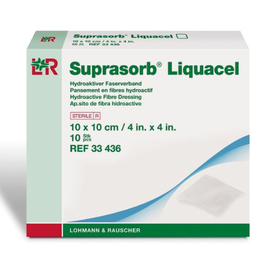 Description
A hydroactive gelling fibre dressing made of cellulose fibres and cellulose ethyl sulfonate fibres (CES). Forms a gel on contact with exudate.
Indications
Moderately to heavily exuding wounds. Ideal for superficial and deep exuding wounds including chronic wounds e.g. leg ulcers, diabetic foot ulcers and pressure ulcers; traumatic wounds e.g. lacerations, cuts and abrasions; acute wounds after surgical incision, or partial-thickness burns; post-surgical wounds e.g. skin grafts and donor sites. Can be cut and folded for cavity wounds. 
Contraindications
Known sensitivity to the product or any of its components. Full-thickness burns. 
Sizes Available
5x5cm; 10x10cm; 15x15cm; 2x45cm
Price
£0.87; £2.07; £3.88; £2.15
More on: Absorbents