Suprasorb F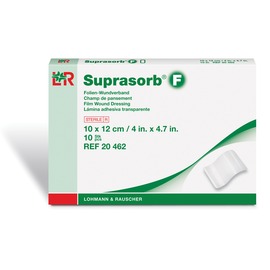 Description
Transparent film wound dressing that protects against external influences such as bacteria, while being comfortable for the patient and easy to apply.
Indications
For lightly exuding, superficial, non-infected wounds in the epithelialisation phase, e.g. abrasions, dermabrasion, skin donor sites, ulcers, pressure ulcers, diabetic foot ulcers, partial-thickness burns. Can also be used as a secondary dressing for additional protection and dressing retention.
Contraindications
Known sensitivity to any components of the dressing. Do not use as a primary dressing on deep, infected or heavily exuding wounds.
Sizes Available
5x7cm; 10x12cm; 15x20cm
Price
£0.35; £0.84; £2.61
More on: Films