Suprasorb A+Ag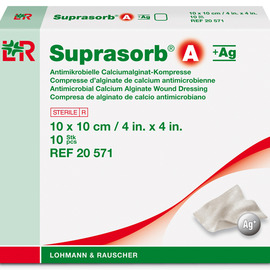 Description
Highly absorbent, calcium alginate dressing with silver. The silver ions are released on contact with wound exudate. Conforms to any wound bed. 
Indications
For critically colonised or infected wounds with heavy exudate, including leg ulcers of various origins (venous/arterial), pressure ulcers, diabetic ulcers, skin donor and skin grafting sites, postoperative wounds.
Contraindications
Known sensitivity to alginate or silver. 
Sizes Available
5x5cm; 10x10cm; 10x20cm; 30cm/2g 
Price
£1.74; £4.37; £8.07; £6.46
More on: Alginates , Silver , Antimicrobial