Actico 2C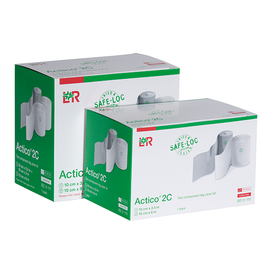 Description
A two-component, latex-free leg ulcer kit. Comfort layer 1: a skin-friendly comfort layer made of foam padding with a soft cotton skin-protection layer that is applied directly to the skin to distribute compression evenly and combine well with emollients. Provides graduated compression and protects vulnerable areas. Compression layer 2: an inelastic cohesive compression layer for effective therapeutic compression.
Indications
Management of venous leg ulcers, with and without mild uncomplicated chronic oedema in both mobile and immobile patients. Suitable for patients with an ABPI >0.8–1.3. An ABPI of >1.3 requires further investigation before use (please refer to local guidelines).
Contraindications
Not recommended for: patients with ankle circumference, when protected with padding <18cm; patients with diabetes or rheumatoid arthritis, unless after specialist referral and under supervision, due to risk of microvascular disease; arterial disease (ischaemia) according to vascular assessment; ABPI of <0.8 or >1.3 unless after specialist referral and under supervision and regular follow-up; congestive heart failure, as compression could lead to cardiac overload; sensory disorders of the limb, i.e. peripheral neuropathy. Do not use if known sensitivity to the fabric.
Sizes Available
The multilayer system is available in two size kits: 18–25cm and 25–32cm. The components are also available individually:
Actico 2C comfort layer 1: 10cmx3.5m; Actico 2C compression layer 2: 10cmx6m
Price
£8.32 (18–25cm kit); £9.36 (25–32cm kit).
£4.50 (comfort layer); £4.13 (compression layer)
More on: Bandaging , Compression