Elasticated Viscose Stockinette 2-way Stretch 4215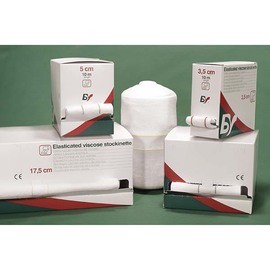 Description
Elasticated viscose stockinette with two-way stretch. Air circulates between the threads.
Indications
Tubular bandage with light compression. Can be used for dressing retention, without constriction or compression, and on any part of the body.
Contraindications
None listed.
Sizes Available
Red line: 10m x 3.5cm
Green line: 10mx5cm
Blue line: 10mx7.5cm
Yellow line: 10mx10.75cm
Beige line: 10mx17.5cm
Price
Red line: £77.81 (32);
Green line: £53.89 (20);
Blue line: £41.63 (12);
Yellow line: £36.18 (8);
Beige line: £319.96 (6).
Available through NHS Supply Chain.
More on: Tubular bandages , Basic dressings