HydroTac Comfort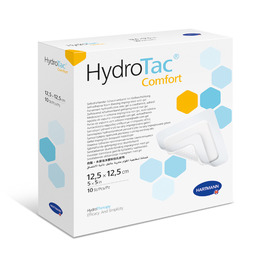 Description
A hydro-responsive wound dressing with AquaClear technology, comprising a hydropolymer gel wound contact layer, with a polyurethane foam film backing and an adhesive border. A non-adhesive version is also available in HydroTac Comfort.
Indications
Suitable for the treatment of low to moderately exuding wounds during the granulation and epithelialisation phases of healing.
Contraindications
Do not use on any patients who may be allergic to any of its components.
Sizes Available
8x8cm; 10x20cm; 12.5x12.5cm; 15x15cm; 20x20cm; 18x18cm (sacral)
Price
£1.32; £3.35; £2.43; £3.55; £5.58; £4.56 (sacral)
More on: Wound contact dressings