Clinistretch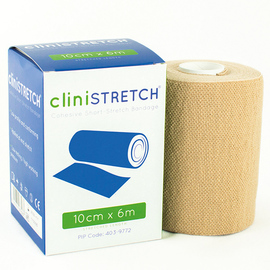 Description
Two-layer (Clinistretch plus Clinistretch Soft) cohesive short-stretch bandage.
Indications
Compression bandaging of limbs with venous disorders (venous leg ulcers) and the control and reduction of chronic oedema and lymphoedema in the lower limbs and arms. Suitable for patients with an ABPI of >0.8–1.2.
Contraindications
Not recommended for: patients with an ankle circumference, when protected with padding, of <18cm; patients with diabetes or rheumatoid arthritis, unless after specialist referral and under supervision, due to the risk of microvascular disease; arterial disease (ischaemia) according to vascular assessment; ABPI of <0.8 or >1.3 unless after specialist referral and under supervision and regular follow-up; congestive heart failure as compression can lead to cardiac overload; sensory disorders of the limb, i.e. peripheral neuropathy. Do not use if known sensitivity to the fabric of the bandage.
Sizes Available
4cmx6m; 6cmx6m; 8cmx6m; 10cmx6m; 12cmx6m 
Price
£2.48; £2.90; £3.33; £3.46; £4.42
More on: Bandaging , Compression