Kliniderm Superabsorbent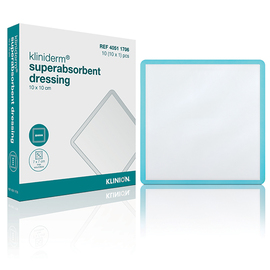 Description
A superabsorbent dressing comprising of four layers; a hydrophilic wound contact layer, an intermediate layer, a superabsorbent inner core and a fluid repellent backing layer. The superabsorbent inner core locks in exudate, bacteria and matrix metalloproteinases. Contains no glues or adhesives. May be used under compression.
Indications
Management of moderately to highly exuding chronic and acute wounds, such as diabetic foot ulcers, pressure ulcers, venous and arterial leg ulcers, postoperative wounds and traumatic wounds.
Contraindications
Not to be used on dry wounds, heavy bleeding wounds, third degree burns and surgical implantation.
Sizes Available
10x10cm; 10x15cm; 20x20cm; 20x30cm; 20x40cm
Price
£0.49; £0.69; £0.99; £1.49; £1.99
More on: Absorbents , Protease modulating dressings