Flaminal Forte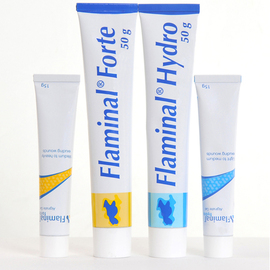 Description
Alginate gel containing two antimicrobial enzymes, glucose oxidase and lactoperoxidase, which exert their effect without damaging healthy skin cells. Debrides the wound and manages moisture balance. Can be used on a wide range of wound types and at every stage of healing.
Indications
Moderate to heavily exuding wounds.
Contraindications
Should not be used where patients have a previous sensitivity reaction to alginate dressings or to polyethylene glycol. 
Sizes Available
15g tube (approximate coverage 40cm); 50g tube (approximate coverage 130cm)
Price
£8.06; £26.70
More on: Alginates , Protease modulating dressings