Flamigel RT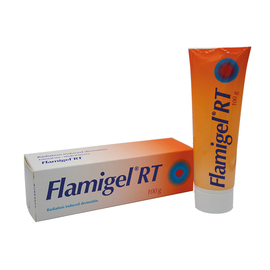 Description
Gel containing hydrocolloid, arginine, purified water, macrogol, branch chain fatty acid (BCFA), methyl-p-hydroxybenzoate (E218), propyl-p-hydroxybenzoaate (E216) and disodium EDTA.
Indications
Protective gel for skin at risk of damage from radiotherapy (radiation-induced dermatitis). When applied to the skin, it builds a protective barrier that helps prevent skin breakdown and sore skin associated with radiotherapy. 
Contraindications
Do not apply to the eyes or eyelids. Avoid use on people with a known allergy to parabens or any of the ingredients listed. Do not use on ulcerations or infected areas without consulting a doctor. 
Sizes Available
100g; 250g
Price
£13.82; £19.98
More on: Skin protection