Jobst Opaque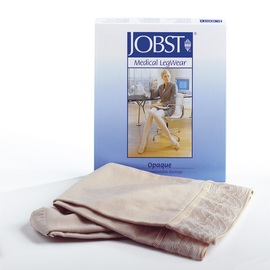 Description
Ready-to-wear circular-knit garments in RAL compression for the treatment of mild to moderate lymphoedema and venous disease. Available in knee high, thigh-high and tights in two RAL compression classes. Thigh-high garments are available with dotted, soft and lace silicone top band in standard and wider circumference.
Indications
For lymphoedema management following oedema reduction.
Contraindications
Ischaemia; untreated septic phlebitis; conditions in which increased venous and lymphatic return is not desired.
Sizes Available
All available in sand, black, navy, caramel and bronze in short and long lengths. Sizes I, II, III, IV, V, VI
Class 1 (18–21mmHg):
knee high closed toe
knee high open toe
thigh high closed toe standard width with dotted silicone band
thigh high closed toe standard width with lace silicone band
thigh high closed toe standard width with soft silicone band
thigh high closed toe wide width with dotted silicone band
thigh high closed toe wide width with lace silicone band
thigh high closed toe wide width with soft silicone band
thigh high open toe standard width with dotted silicone band
thigh high open toe standard width with lace silicone band
thigh high open toe standard width with silicone band
thigh high open toe wide width with dotted silicone band
thigh high open toe wide width with lace silicone band
thigh high open toe wide width silicone band
tights closed toe
tights open toe
Class 2 (23–32mmHg):
knee high closed toe
knee high open toe
thigh high closed toe standard width with soft silicone band
thigh high closed toe standard with lace silicone band
thigh high closed toe standard width with dotted silicone band
thigh high closed toe wide width with soft silicone band
thigh high closed toe wide width with lace silicone band
thigh high closed toe wide width with dotted silicone band
thigh high open toe standard width with silicone band
thigh high open toe standard width with lace silicone band
thigh high open toe wide width with silicone band
thigh high open toe wide width with lace silicone band
thigh high open toe standard width with dotted silicone band
thigh high open toe wide width with dotted silicone band
tights closed toe
tights open toe
Price
Class 1 and 2:
Knee high: £27.64
Thigh high: £52.52
Tights: £48.13
More on: Hosiery: lymphoedema , Compression