Jobst Classic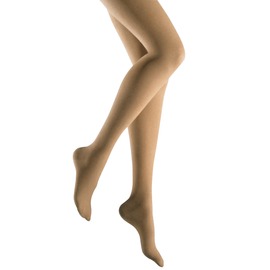 Description
Ready-to-wear, circular-knit garments in RAL compression for moderate lymphoedema of the legs. Manufactured using a firmer feel fabric with stiff resistance to apply a stronger level of compression. Available in knee high, thigh and tights in two colours: sand and pearl. Thigh-high garments are available with knitted or dotted silicone top band.
Indications
Management of lymphoedema following oedema reduction.
Contraindications
Severe arterial insufficiency, uncontrolled congestive heart failure, untreated infection.
Sizes Available
All available in sizes I–VI
Class 2:
Knee high, open toe (petite, regular)
Thigh high, open toe, knitted band (standard)
Thigh high, open toe, silicone band (standard)
Tights, open toe (petite, regular)
Class 3:
Knee high, open toe (petite, regular)
Thigh high, open toe, knitted band (standard)
Thigh high, open toe with silicone band (standard)
Tights, open toe (petite, regular)
Price
Class 2 (23-32mmHg):
Knee high: £28.45
Thigh high: £54.06
Tights: £49.54
Class 3 (34-46mmHg):
Knee high: £31.24
Thigh high: £59.12
Tights: £53.56
More on: Compression , Hosiery: lymphoedema