Cutimed Sorbion Sana Gentle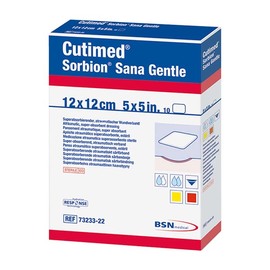 Description
Atraumatic, Hydration Response Technology (HRT), absorbent dressing with advanced, three-dimensional, non-adherent polyethelene wound contact layer. Hypoallergenic. Effective under compression.
Indications
Primary dressing for the management of low to highly exuding wounds of varying aetiologies. Ideal for patients with wounds that have islands of epithelial tissue and/or dry areas, or who are receiving palliative care, or with sensitive skin.
Contraindications
No contraindications are currently known. However, avoid contact with mucous membranes, eye areas and dry wound areas. sorbion sana gentle is not intended as a wound filler or for use in tunnel-forming pockets.
Sizes Available
8.5x8.5cm; 12x12cm; 22x12cm; 22x22cm; 32x22cm
Price
£2.16; £2.70; £4.86; £8.66; £11.91
More on: Absorbents , Superabsorbents , Protease modulating dressings