Cutimed Sorbion Sachet Multi Star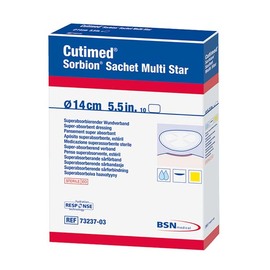 Description
Uniquely shaped Hydration Response Technology (HTR) dressing for difficult-to-dress anatomical sites. Flexible hypoallergenic primary dressing that absorbs and binds exudate.
Indications
Management of moderate to highly exuding wounds.
Contraindications
None currently known, but avoid using on wounds with very little or no fluids (risk of drying or adhesion). Only apply to tunnel cavities under appropriate monitoring conditions as the product expands as it absorbs fluids.
Sizes Available
8x8cm; 14x14cm
Price
£3.24; £5.30
More on: Absorbents , Superabsorbents , Protease modulating dressings