Cutimed Alginate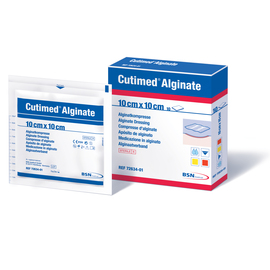 Description
Sterile, non-medicated, alginate dressing, consisting of calcium and sodium alginate. Semipermeable, non-woven fabric coated on both sides with natural fibres derived from seaweed.
Indications
Moderate to heavily exuding acute and chronic wounds.
Contraindications
Not indicated for surgical implantation or dry wounds. Should not be applied with a known or suspected allergy to any ingredients. Do not use to control heavy bleeding or wound infection. 
Sizes Available
5x5cm; 10x10cm; 10x20cm; 2.5x30cm (tape)
Price
£0.81; £1.69; £3.19; £3.89 (tape)
More on: Alginates