Cuticell Contact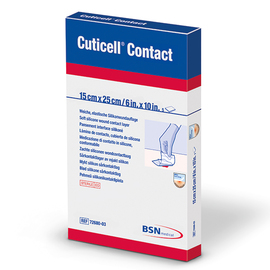 Description
An elastic and transparent polyurethane film coated with soft silicone.
Indications
For acute and chronic wounds such as leg and pressure ulcers, surgical incisions, blistering, partial-thickness burns, skin graft and donor sites, lacerations, abrasions and skin tears.
Contraindications
Do not use on patients with a known sensitivity to any of the product components.
Sizes Available
5x7.5cm; 7.5x10cm; 10x18cm; 15x25cm
Price
£1.18; £2.26; £4.71; £7.90
More on: Wound contact dressings