Thin Skin Protection Socks and Sleeves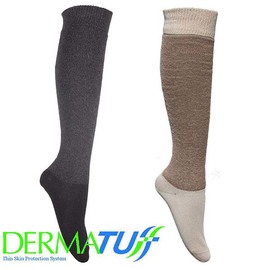 Description
Protective socks and sleeves to protect fragile, thinning skin from skin tears. Made from a strong, hard, heat-resistant synthetic fibre called Kevlar and elasticated nylon, using a specialist weaving method.
Indications
Patients with thin, thinning or fragile skin who have or are at risk of skin tears and bruising.
Contraindications
Should not be placed in direct contact with breached or compromised skin. Apply over a wound contact dressing if necessary. Can be used in combination with compression hosiery, but seek medical device.
Sizes Available
Socks: small; medium; medium-wide; large.
Sleeves: small; medium large
Colours available: oatmeal, black
Price
Not available on the Drug Tariff. £30 per pair (plus VAT and P&P)
More on: Skin protection