Kaltostat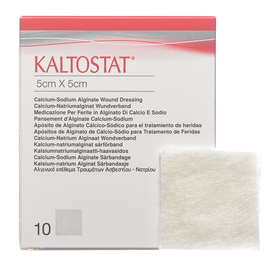 Description
Sterile non-woven calcium-sodium alginate fibre dressing. On contact with a bleeding wound, promotes haemostasis.
Indications
Moderate to heavily exuding wounds and the local management of bleeding minor wounds.
Contraindications
Should not be used on individuals who are sensitive or have had an allergic reaction to the dressing or its components. Not indicated for third-degree burns or use as a surgical sponge. Not indicated for heavily bleeding wounds.
Sizes Available
5x5cm; 7.5x12cm; 10x20cm; 15x25cm; 2g rope; 
Price
£1.02; £2.21; £4.35; £7.47; £4.07
More on: Alginates , Wound contact dressings