DuoDERM Signal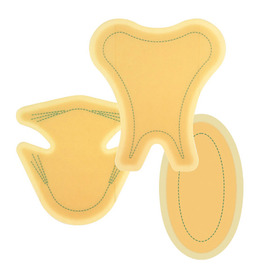 Description
An adhesive, bordered hydrocolloid dressing. An indicator helps to determine when to change the dressing. The adhesive layer forms a cohesive gel when in contact with wound exudate.
Indications
Indicated for wounds such as leg ulcers, diabetic ulcers, pressure ulcers, surgical wounds, second-degree burns, traumatic wounds.
Contraindications
Known sensitivity to the dressing or its components.
Sizes Available
10x10cm; 14x14cm; 20x20cm; 18.5x19.5cm (heel); 22.5x20cm (sacral); 11x19cm (oval)
Price
£2.23; £3.91; £7.77; £5.46 (heel); £6.38 (sacral); £3.42 (oval)
More on: Hydrocolloids