CarboFlex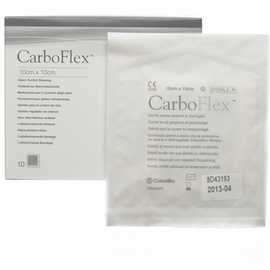 Description
Sterile, non-adhesive, multilayer dressing with a highly absorbent wound contact layer, a one-way, water-resistant film to delay strikethrough to the carbon layer, thereby prolonging its odour-adsorptive properties, an activated charcoal cloth, an absorbent pad for comfort and a water-resistant top layer.
Indications
For the management of malodorous wounds.
Contraindications
Not to be used on patients with known sensitivity to the dressing or its components.
Sizes Available
10x10cm; 8x15cm (oval); 15x20cm
Price
£3.48; £4.17 (oval); £7.91
More on: Odour control , Wound contact dressings