Avelle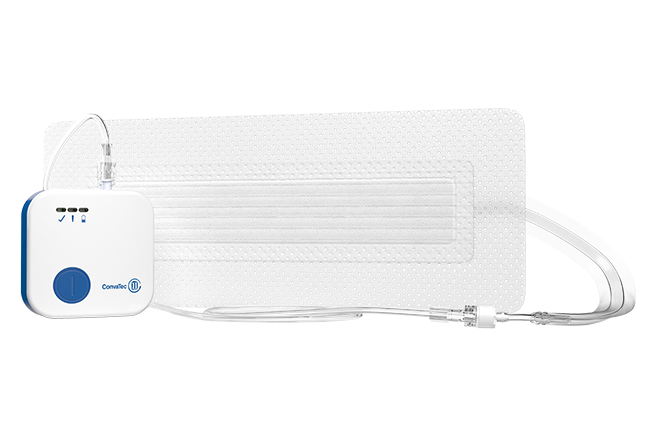 Description
A small, portable, disposable negative pressure wound therapy (NPWT) pump that is used in combination with Hydrofiber technology. Pump life is 30 days. The full system comprises a pump, tubing and Hydrofiber dressings. Pumps and dressings are sold separately. There is also an optional bag.
The pump contains: 1 x Avelle NPWT unit; 1 x extension tubing with luer connections; 2 x sets of AAA batteries.
The dressing pack contains: 5 x Avelle NPWT sterile dressing each with a set of 6 sterile adhesive fixation strips. 
Indications
A broad range of wound types including chronic, acute, traumatic, subcutaneous, dehisced, flaps and grafts and surgically closed incisions.
Contraindications
Patients who are sensitive to, or have known allergies to, silicone/acrylic adhesives, sodium carboxymethylcellulose or nylon. Malignant wounds (wound bed and/or margins), except in palliative care to enhance quality of life. Wounds with confirmed and untreated osteomyelitis. Non-enteric and unexplored fistulas. Necrotic wounds or wounds in which eschar is present. Wounds with exposed arteries, veins, nerves or organs. Anastomosis sites. Emergency airway aspiration. Pleural, mediastinal or chest tube drainage. Surgical suction. Burns including partial-thickness ones. 
Sizes Available
Dressings: 16x16cm; 16x21cm; 12x21cm; 12x31cm; 12x41cm; 12x21x26cm; 26x26cm
Price
Pump: £103.63.
Dressings: £15.70; £23.03; £15.70; £25.12; £32.00; £32.84; £40.54
Carry case: £6.00 (not available on the Drug Tariff, contact supplier).
More on: Negative pressure wound therapy